Horse riding in Rovaniemi is equally for beginners and experienced riders: it was thought and made for the whole family.
If you are an experienced rider, you will ride your horse alone: if you are a beginner, you can be accompanied by a walker holding the lead. The other option is also, if you are interested in this activity but don't want to ride, enjoy the safari sitting in a sled pulled by a horse.
Animal rights : In this stable, everybody takes great care of the horses. They ride enough to stay healthy, but never too much. The stable's staff make sure the horses are well treated: this is why they chose to make them live together in fields instead of individual stalles.
About the horses and the stable…
The stable which we work with in Rovaniemi is a family stable, on a human scale, where the owners (and employees), work with passion. The horses are Irish Cob: they are hardy, and well adapted to the Finnish winter temperatures. Moreover, they have a calm temperament: they are perfect for hiking.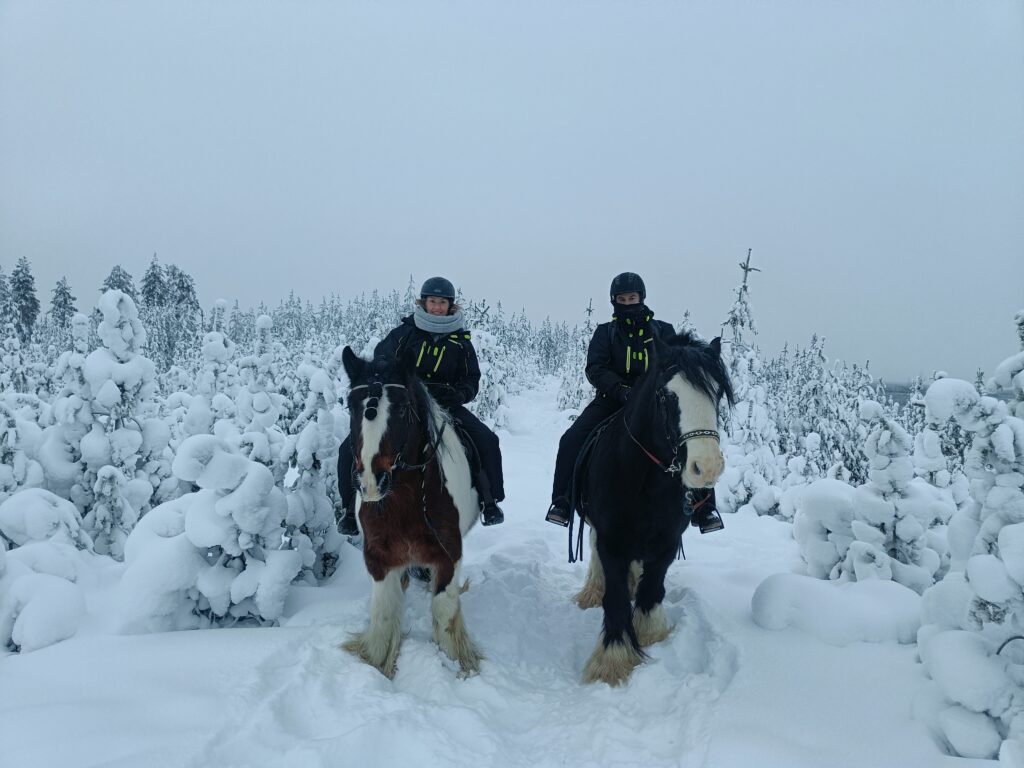 Program: horse riding experience in rovaniemi
After meeting with our guide, you will be driven 30 min from Rovaniemi, at this stable located next to Kemijoki river. The tours last about 1 hour: you will ride mainly in the middle of incredible forest landscapes. The route is also taken by many wild animals, and reindeers: with a small luck, you will see some. After the tour, you will be invited inside a traditional kota to warm you up and share hot drinks and snacks, and explanations.
Duration: 3h
Season : From October to mid-April
Price : 160€/adult
Prerequisite:
Our horseback riding program is suitable for all levels, and does not require any particular physical condition
This program is accessible to children over 5 years old.
Here are a few images from one of our horseback outings: