The ice hotel is a unique place where you will have the opportunity to explore an unusual building entirely made of ice and snow. You will be able to visits its single rooms as well as suites, the ice chapel, the ice restaurant and the ice bar. All of them are decorated with spectacular ice sculptures.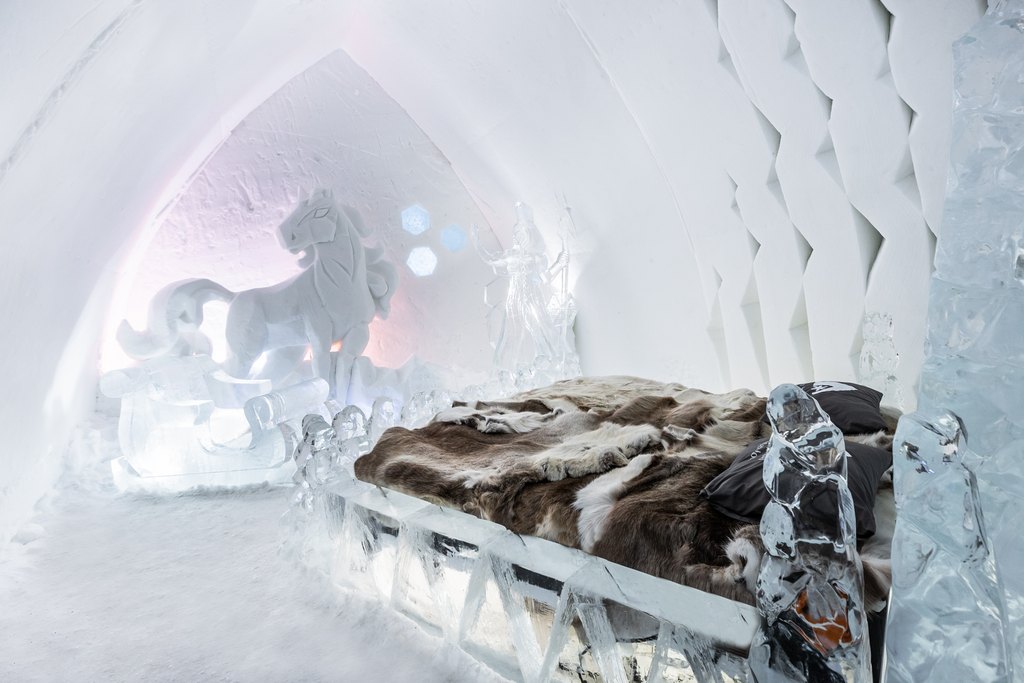 Guided visit of the arctic snowhotel in Rovaniemi
Details :
For this program, we will pick you up at your accommodation and take you (by private transport) to the ice hotel located about 30 kilometers from Rovaniemi. On site, your guide will show you around this extraordinary place and will share stories about the construction of this ephemeral hotel. If you wish, you will then have the possibility of having a drink at the ice bar (not included).
Season: from December 15th to March 31st
Duration: 3 hours
Included: private transportation from Rovaniemi, entrance to the Arctic SnowHotel, guided visit with your own guide.
Prices: from 75€/adult.
Dinner at the ice restaurant and snow hotel visit
he ice restaurant, made entirely of snow and ice, offers a unique setting for an unforgettable dinner. You will have the opportunity to taste hot Lappish delicacies, served on ice tables. The meal consists of a starter, a main course, and ends with a dessert, which is served on a pretty ice sculpture.
Duration: 4h15
Saison : programme disponible du 15 décembre au 31 mars
Included: transportation, entrance to the Arctic SnowHotel, guide, dinner.
Prices: from 150€/adult.