Is there many things to do with children in Lapland ?
1. Cultural visits in Lapland with children
There are quite a lot, in fact! We share with you our Top #5 activities in Rovaniemi and its surroundings. The tours listed below are suitable for children, no matter how old they are (because a lot are indoors).
Santa Claus Village in Rovaniemi
As you might expect, the must seen with children in Lapland is visiting  Santa Claus Hiliday Village. You can see Santa's office and shop, as well as Mrs. Santa Claus cottage.******. Meeting the one and only Santa, surrounded by his elves, is an unforgettable experience… even if most children become quite shy when they meet him! There are also souvenir shops, restaurants and fast foods, and even a live webcam, to greet your loved ones from the Arctic!
Visiting Santapark in Rovaniemi
Santapark  is located about 3 km from Santa Claus Village, and open from November until the beginning of January. This park, dedicated to Christmas, offers attractions for children, and even an elves show!
A Lappish handcrafts workshop
If you want to meet locals, and learn more about fauna and flora in Lapland, do not miss the Lappish handcrafts workshop! Irene and Ari are finnish craftsmen, and they share their knowledge and love for nature in their workshop. They help you make a souvenir. Children (and adults) love it!  Info and booking.
Sinettä Snow hotel
Another typical activity is visiting the snowhotel in Sinettä. This ephemeral work is open from December to March, before the snow melts. Each hotel built is absolutely unique: you can spend a night, and even take a steam bath in a snow sauna!  
Museums to visit with children in Rovaniemi
If you are willing to discover the arctic lifestyle, understand the northern forests, or discover local art, here are a few places we recommend you to visit with children:
Arktikum, is a science center and museum that lets you experience northern nature, culture, and history. This place is fabulous and playful, you will see beautiful displays, and a lot of information about lappish history and culture.
Pilke Science center, visiting this museum, you will learn more about northern forests and its saving, as well as the forest industry. Interactive and educative, this center is located a few meters away from Arktikum.
Korundi House of Culture, this center is one of the only buildings of Rovaniemi which survived the second World War. Today, it is a modern art museum, and Rovaniemi's chamber orchestra home.
We advise you to take the Culture Pass (https://www.culturepass.fi/en), with this pass, you can discover three of these places, for a lower cost.
Outdoor tours to do with children in Rovaniemi
With proper clothes, ready for the lappish winter, children are more than welcome on outdoor excursions. Here are 6 outdoor activities to do with your family in finnish Lapland:
1.Snowmobile tour in Lapland with children
One of the most asked questions is ''can children have snowmobile tours with us?". Our answer is: YES! However, for their safety, children under 1.40m will be pulled by the guide's snowmobile, in a sleigh. Moreover, we recommend an adult (or older child) to go in the sleigh with children under 4 years old.
Here is more information about private snowmobile excursions with a local guide.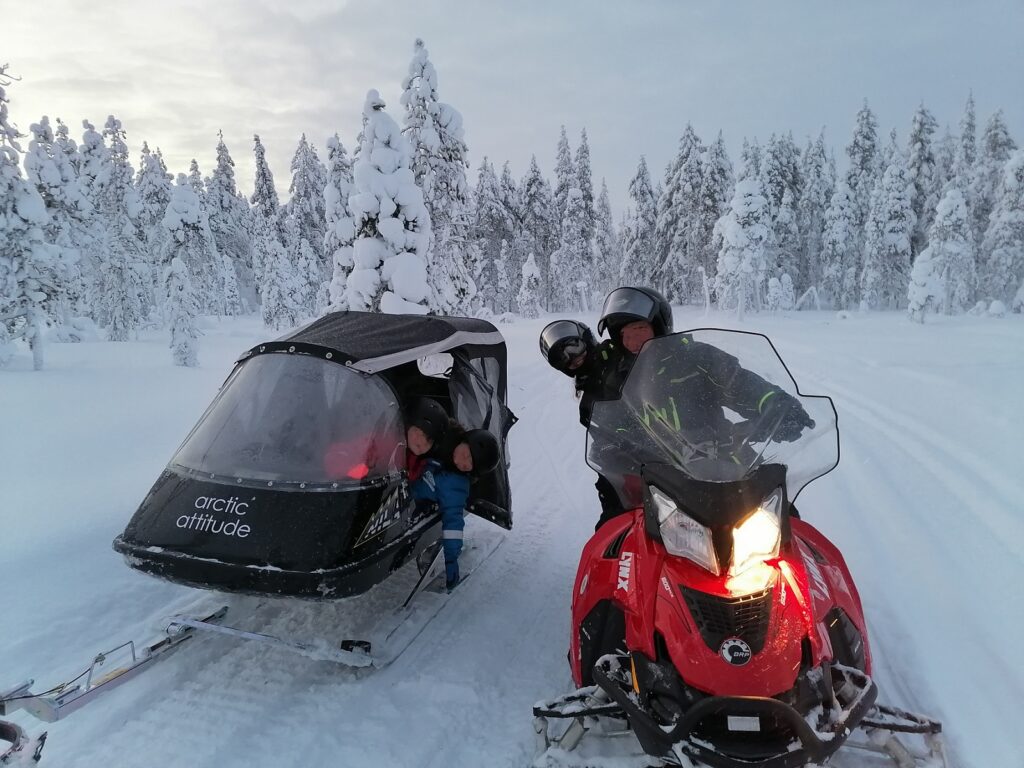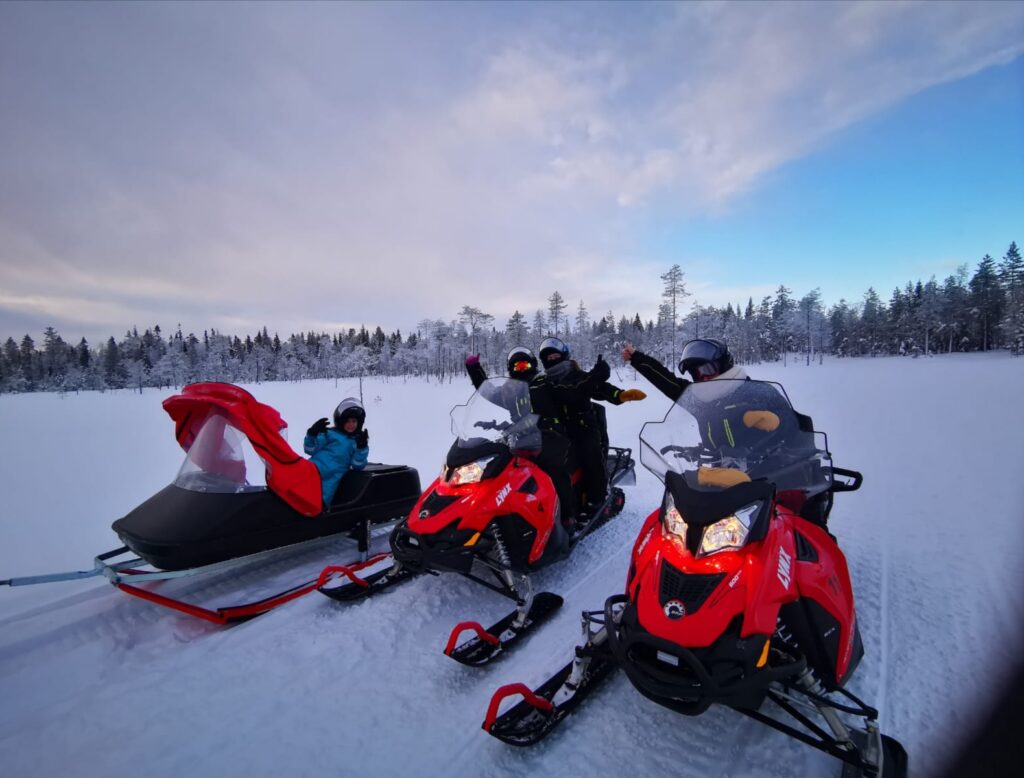 2. Husky tour with children in Rovaniemi
The most famous excursion in Lapland is, with no doubt, a husky safari.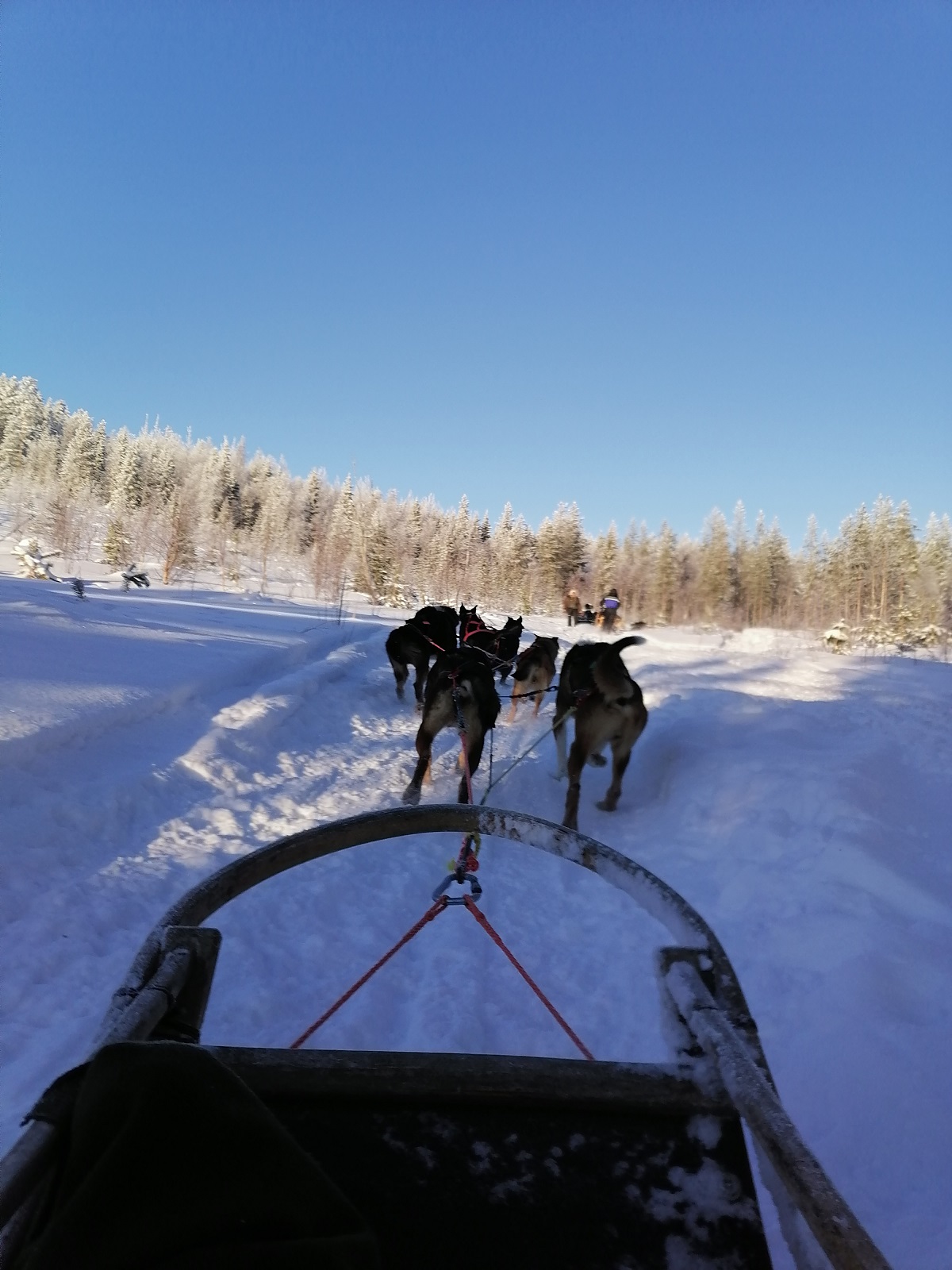 It is important to know that only adult with driving license can drive the sleigh, pulled by the huskies: the other members of your family can sit in the sleigh, enjoy the views, and take as much pictures as they want! As children stay in the sleigh, sitting, they can be cold more easily than usual. We recommend you to add one or even two layers of clothes, and to control often that they are still wearing their gloves and hat in the sleigh.
3.Visiting a reindeer farm in Rovaniemi
Did you know that in Lapland, there are more reindeers than Human Beings? Visiting a reindeer farm is the opportunity to meet this iconic animal! Children can feed them, learn more about them, and ask all their questions to the farmer. This activity is possible for everybody, no matter how old you are! However, as explained previously, we recommend you to ad one, or even two layers of clothes for the youngers, as you stay still in the sleigh.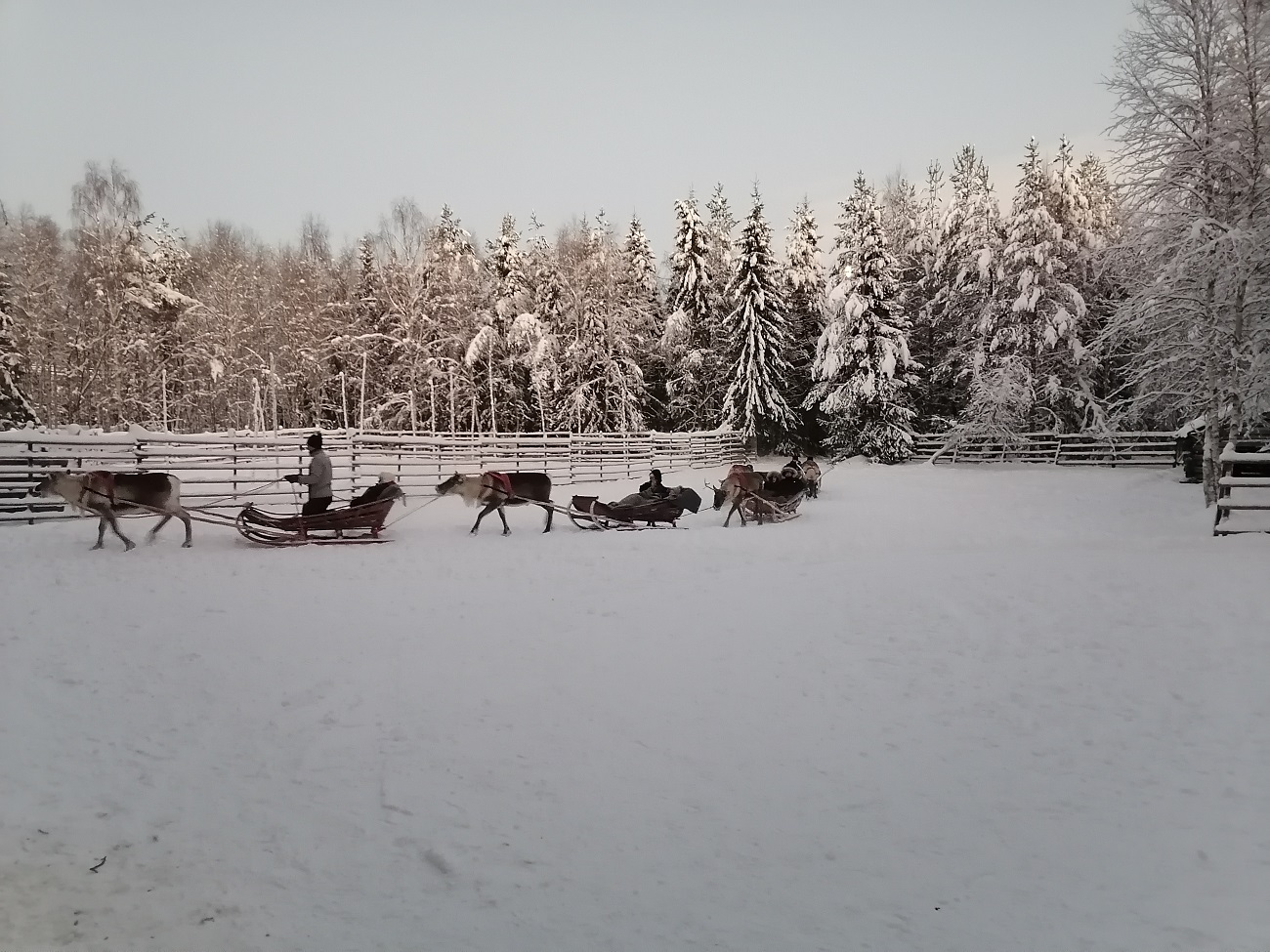 If the temperatures are too low for you, it is useless to fight and suffer: it is obviously possible to stay inside a warm house at the farm.
4. Northern Lights hunting with children in Rovaniemi
Hunting Northern Lights is a must-do if you are planning a trip to Lapland! Because we know that children are more cold, and tired faster than adults, we made the choice of comfort: we will drive you to see the Northern Lights with a van. It offers the children the opportunity to stay in warmth, in the van (and even sleep sometimes!). Usually, the guide lights a fire and serves hot drinks waiting for the Auroras to show up.
Nevertheless, if your children or yourself are cold, the secret is to M.O.V.E! You can start a snowball fight, or make races, running toward the car… It is really important to activate blood circulation, to warm the body.
We do not recommend this Northern Light hunt with children by snowmobile, because this tour is composed of two parts; the snowmobile ride itself, and the time spent outside waiting for the Northern Lights. It can be too much for children (very young ones).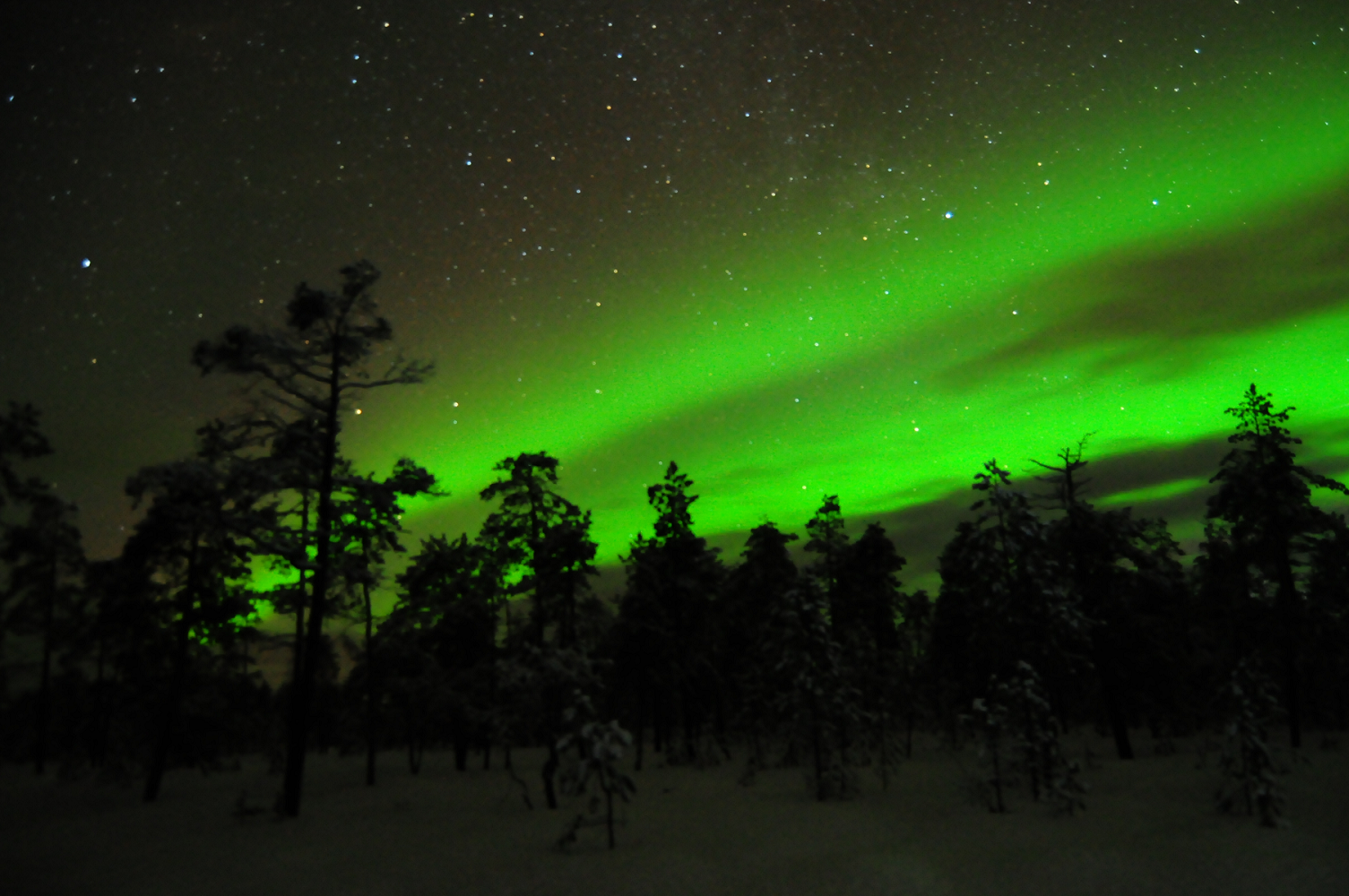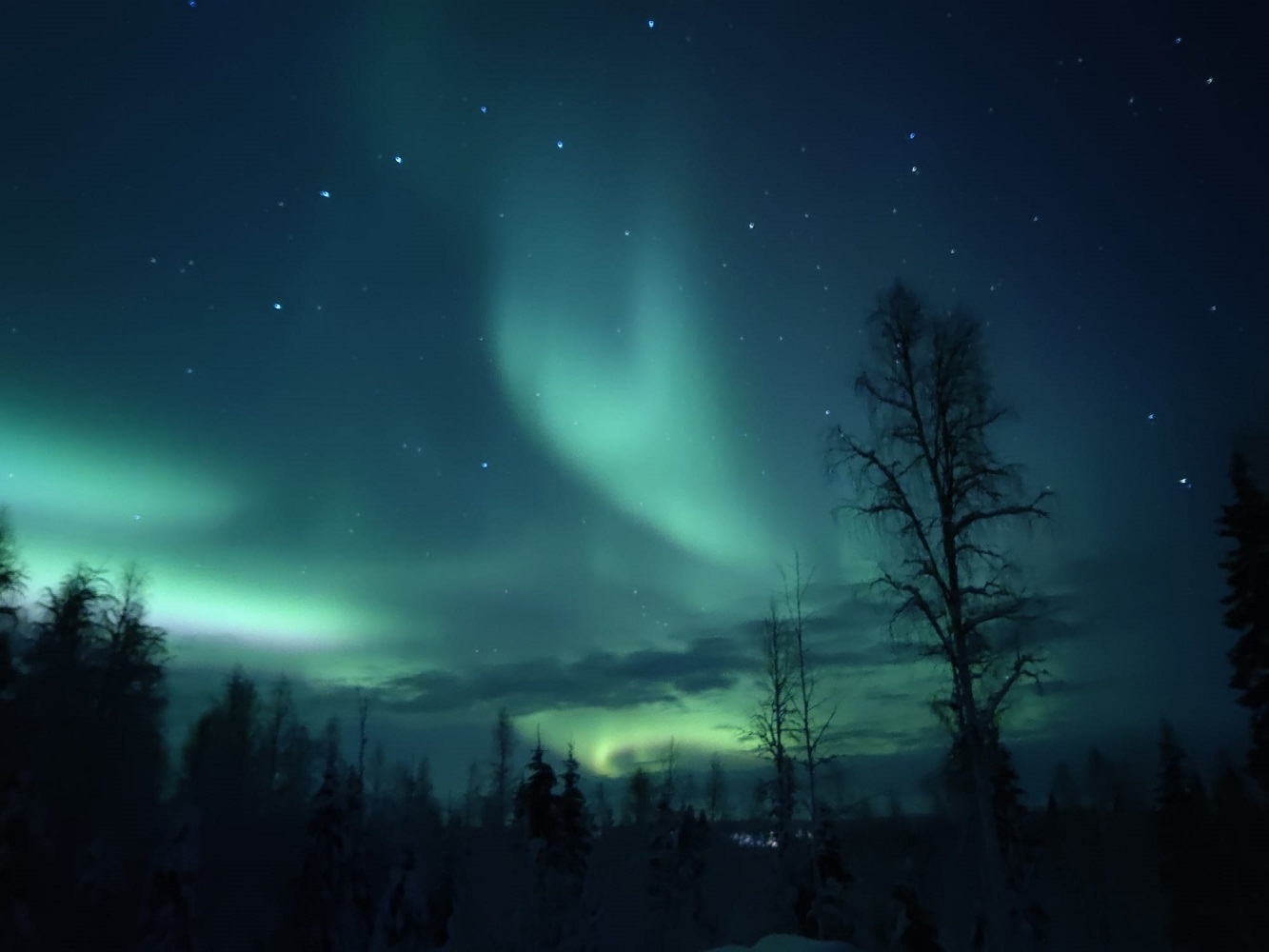 5. Snowshoeing tour with children
Far from the crowds, and from the noise of engines, snowshoe excursions are the best way to enjoy the calmness of nature, and the magical landscape of Lapland. It might be the most ''surprising'' tour: some children will love it, and even sometimes ask for more. Others (and not obviously the youngest ones!) will feel tired really fast. Our advice: bring a sled with you! It is really practical to walk around during your stay here. You can find plastic sleds with a rope, in supermarkets or sport stores (around 10€).
6. Sauna tour with children in Lapland
Here is the best tour for the most sensitive to cold: the sauna is a must-do during your stay in Lapland. As the sauna is part of everyday life of finnish people, it is listed from 2020 as a UNESCO World Cultural Heritage. Associated with swimming in frozen waters, the benefits of the sauna are undeniable! 
In Finland, babies experience a sauna with their parents from 4 to 6 months, for a very short moment (less than 5 min). For the children not accustomed to saunas, they can stay between 5 to 10 min, or 15 if they feel good (but always with an adult). If the sauna is too hot for them, there is always a changing room next to the sauna, where they can stay.
Another very important point: remember to often offer them food and water, to stay hydrated.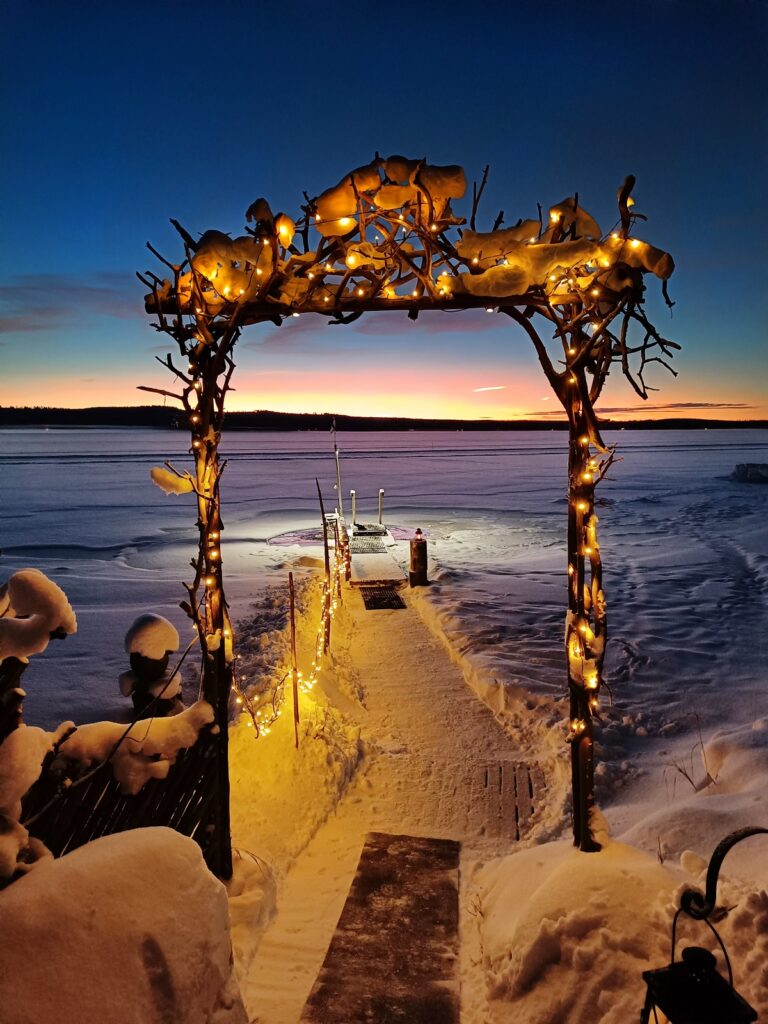 To conclude, now you know there are a lot of visits possible, when you come to Lapland with children. To enjoy as much as possible these extraordinary moments, it is mandatory to give proper outfit to your children (and yourself!) against the cold, and to move to stay warm.